Berat-The city of thousand one windows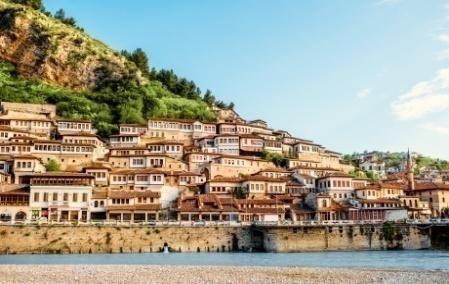 EN BLOG
08/02/2019 Release by LIVING ALBANIA
In Sintesi
Known as the city of a thousand windows, Berat is one of the oldest cities in Albania.

La notizia
Berat is the ninth largest city by population of the Republic of Albania.
Berat is located in the south of the country surrounded by mountains and hills including Tomorr on the east that was declared a national park. For a total length of 161 kilometres (100 miles) the Osum River runs through the city before it empties into the Seman River within the Myzeqe Plain.

Berat, designated a UNESCO WORLD HERITAGE Site in 2008, comprise a unique style of architecture with influences from several civilizations that have managed to coexist for centuries throughout the history. Like many cities in Albania, Berat comprises an old fortified city filled with churches and mosques painted with grandiose wealth of visible murals and frescos.

Known as the city of a thousand windows, Berat is one of the oldest cities in Albania.The origin of this city is the castle built in the fourth century BC. The archaeological data take us up to the VII century a.C. Two stone hammers of the copper age – the beginning of the bronze testify that in the years 2600 – 1800 BC. it was an inhabited center.
The citation of foreign authors, Polibio and Tito Livio, identifies Berat with Antipatrea. Referring to the findings from the archaeological excavations made in the castle of Berat and relying on the various authors, the thought of continuity of the life of this city from antiquity to the present day is consolidated.
The proto-urban period (end of the 7th – 5th century BC) is shown by the ceramics found both in local and imported production.
For the first time, in the cultural strata, fragments of clay plaster and traces of the Campanian rods are discovered. The imported ceramics came from relations with the Corinthian and southern Italy.

Name

The name of the city in Albanian is "Berat" or "Berati", which is probably derived from the Old Slavonic meaning "white city" in the South Slavic languages, under which name it was known in Greek, Bulgarian, Latin and Slavic documents during the High and Late Middle Ages.
That name was rendered as Bellegrada in Greek.
It is believed to have been the site of the ancient city "Antipatreia" or "Antipatrea" in Latin, while during the early Byzantine Empire the name of the town was "Pulcheriopolis".
In the Republic of Venice the city was known as Belgrad di Romania, while in the Ottoman Empire it was also known as Belgrad-i Arnavud (Albanian Belgrade) to distinguish it from Belgrade.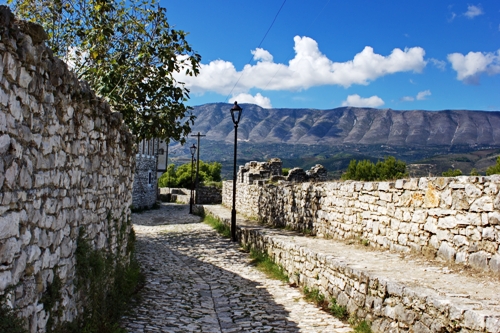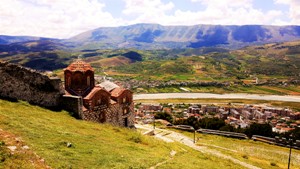 The coexistence of religious and cultural communities over several centuries, beginning in the 4th century BC into the 18th century is apparent in Berat. The town also bears testimony to the architectural excellence of traditional Balkan housing construction, which date to the late 18th and the 19th centuries. Some of the landmarks of that historical period could be seen in the Berat Castle, churches of the Byzantine era such as the Church of St. Mary of Blaherna (13th century), the Bachelors' Mosque, the National Ethnographic Museum, the Sultan's Mosque (built between 1481 and 1512), Leaden Mosque (built in 1555) and the Gorica Bridge.

Berat Castle is built on a rocky hill on the right bank of the river Osum and is accessible only from the south. After being burned down by the Romans in 200 BC the walls were strengthened in the 5th century under Byzantine Emperor Theodosius II, and were rebuilt during the 6th century under the Emperor Justinian I and again in the 13th century under the Despot of Epirus, Michael Komnenos Doukas, cousin of the Byzantine Emperor. The main entrance, on the north side, is defended by a fortified courtyard and there are three smaller entrances. The fortress of Berat in its present state, even though considerably damaged, remains a magnificent sight. The surface that it encompasses made it possible to house a considerable portion of the town's inhabitants.
The buildings inside the fortress were built during the 13th century and because of their characteristic architecture are preserved as cultural monuments. The population of the fortress was Christian, and it had about 20 churches (most built during the 13th century) and only one mosque, for the use of the Muslim garrison, (of which there survives only a few ruins and the base of the minaret). The churches of the fortress have been damaged through the years and only some remain.

Religious architecture

-Cathedral of Saint Maria, in the district of Kalaja.
-Church of Saint Michele, in the district of Kalaja.
-Church of Saint Michele, in the district of Mangalem.
-Church of Saint Spiridione, in the Gorica district.
-Church of Saint Teodoro, in the area of Kalaja.
-Church of St. Thomas, in the district of Gorica.
-Scapoli Mosque, built in the Mangalem area.
-White Mosque, in the Kalaja area.
-Mosque of Piombo, in the district of Mangalem.
-King's Mosque in the Mangalem area.
-Red Mosque in the district of Kalaja.

The Church of St. Mary of Blachernae dating from the 13th century, has 16th century mural paintings by Nikollë Onufri, son of the most important post-medieval Albanian painter, Onufri.
In a small tree - planted square, on a hillside inside the walls of the fortress, stands the 14th century Church of the Holy Trinity.
It is built in the form of a cross and has Byzantine murals.
Outside the ramparts is the Church of St. Michael (Shën Mehill), built in the 13th century. This church is reached by a steep but perfectly safe path. Near the entrance, after a guardhouse, is the little Church of St. Theodore (Shen Todher), which have wall paintings by Onufri himself. The most interesting is the cathedral of St. Nicholas, which has been well restored and is now a museum dedicated to Onufri.
Onufri was the greatest of the 16th century painters in Albania. Not only was he a master of the techniques of fresco and icons, but he was the first to introduce a new colour in painting, shiny red, which the French called "Onufri's Red". In addition, Onufri introduced a certain realism and a degree of individuality in facial expression.
The first inscription recording Onufri's name was found in 1951, in the Shelqan church. The Kastoria church has a date 23 July 1547 and a reference to Onufri's origin : I am Onufri, and come from the town of Berat. Onufri's style in painting was inherited by his son, Nikolla (Nicholas), though not so successful as his father. In Onufri's museum can be found works of Onufri, his son, Nikolla and other painters'.
There are also numbers of icons and some fine examples of religious silversmith's work (sacred vessels, icon casings, covers of Gospel books, etc.). Berat Gospels, which date from the 4th century, are copies (the originals are preserved in the National Archives in Tirana).
The church itself has a magnificent iconostasis of carved wood, with two very fine icons of Christ and the Virgin Mary. The bishop's throne and the pulpit are also of considerable quality.
Near the street running down from the fortress is the Bachelors' Mosque (Xhami e Beqareve), built in 1827. This has a handsome portico and an interesting external decoration of flowers, plants, houses, etc.
The 'Bachelors' were the young shop-assistants (in practice generally unmarried), whom the merchants in Berat used as their own private militia.
The King Mosque (Xhamia e Mbretit), the oldest in the town built in the reign of Bayazid II (1481–1512), is notable for its fine ceiling.
The Lead Mosque (Xhamia e Plumbit), built in 1555 and so called from the covering of its cupola. This mosque is the centre of the town.
The Halveti Tekke (Teqe e Helvetive) is thought to have been built in the 15th century. It was rebuilt by Ahmet Kurt Pasha in 1782. It belongs to the Khalwati Sufi order.

LivingALBANIA
Italian Tour Operator
Address: Albania, Durres (Durazzo), Road Egnatia, District n.3
info@livingalbania.com
https://livingalbania.com/
https://www.livingalbania.it/
https://www.facebook.com/livingalbaniatour/
https://www.myvacationpages.com/details/livingalbania

Tel/Fax: AL +35552232825
Mob. AL +355693388904
Tel IT +390307778449


Allegati: